Wash Day @ 7 Weeks Post; Did A Black Rinse All By Myself
-->
Ladies, my hair has been superb this past month; I simply adore it! This wash day also went pretty smoothly and gave me a great experience with twist outs!
Friday evening, I clarified with Organic Root Stimulator aloe shampoo by diluting it in spray bottle. Made shampooing so easy!
Followed with the last bit of Creme of Nature detangling Shampoo (see review here)
T-shirt dried to reduce the water quantity in the strands to allow for deeper penetration of the deep conditioner
Applied Queen Helene cholesterol with Ginseng (has keratin amino acids) for 5 minutes
Rinsed and t-shirt dried for a while and sat under my hooded dryer to about 50% dried hair into to apply the Affirm semi permanent black colour
I divided my hair into four sections; found the right glove I couldn't find during my henna treatment (here) and used a white poly bag in the left; the reverse of the henna incident! I applied the colour with the aid of a mirror.
I sat under the hooded dryer for 30 minutes as stipulated and rinsed with cold water before applying Keracare Humecto. Went back into the dryer for 15 minutes and rinsed
T-shirt dried for about 5 minutes, applied Cantu Shea butter leave in (review here. 50gh in my shop) and Hawaiian Silky 14-in-1 moisturizer. I twisted the hair and used perm rods to keep the ends from unraveling.
Next day, I sat under the dryer for extra 10 minutes to be sure the twists were properly dried. I tied the hair with a scarf as I went about my chores.
I applied a bit of olive oil on my fingertips before undoing the twist to decrease frizz. Loveeedddd the results!! The hubby was concerned people will assume I had a wig on! It happens often anyway.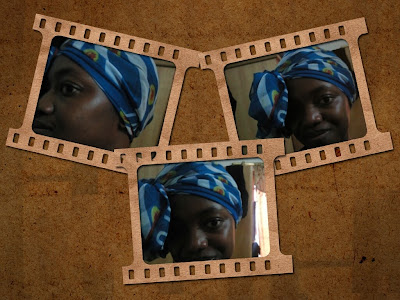 Twist out results
Went to the mall to meet some ladies and scanned through products at The Game after one of the ladies, Augusta, "instagrammed" a picture of their hair products isle. They have stocked up on VO5 give me moisture conditioner for almost 13gh. I mustered all the resistance I could get and left without purchasing anything! Then, I went to say hello to my weaveologist and saw Dark and Lovely Amla legend. I simply grabbed one and paid for it before she could even tell me what it was.lol She understood that I knew the product! It smells so sweet and doesn't tingle so I'll be able to apply on the scalp frequently!
Really enjoyed my wash day.
How was your wash day?
Emprezz